Ishmael's "Fading Glory"? Or Isaac's "Ever-Increasing Glory"?! Part 1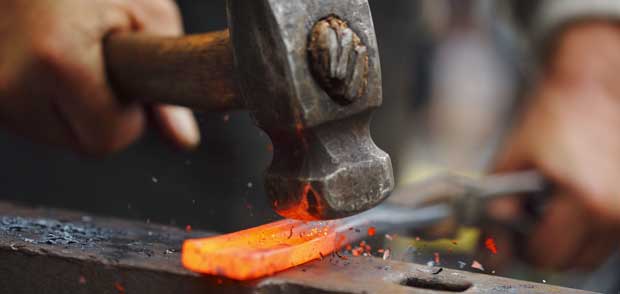 12/6/1990
1990
The Artisan's Hammer
The Scriptures on several occasions speak of our God, our Father, as a craftsman, or a potter. God Himself is actually dedicated to skillfully reshaping our lives into the image of His Beloved Son Jesus. I'd like to suggest to you some reasons for that "hammer" of the blacksmith. Did you know that the travail of barrenness, and the aloneness of the nighttime of our lives, is often an act of His love and grace? Barrenness and failure are not always a curse that we must endeavor to go around. We don't have to dull our senses by filling our minds and time with the possible "Hagars" of sports, television, computer junk time, "R&R," that good old inalienable right: the family vacation, sex-drugs-alcohol, man's version of christian (or other kinds of) "religion," shopping sprees, accumulation of material goods, or our jobs. Without additional comment, let me say that to run from the stigma and hurt of barrenness, or failure in our lives, into the arms of fleshly gratification or the security of systematization, will rob you of the very things that you've always really wanted. To turn to these substitutes for "life that is truly Life," rather than turning to a living Jesus in those difficult seasons, is to forfeit:
Victory Over Sin
"Therefore, since Christ suffered for us in the flesh, arm yourselves also with the same mind, for he who has suffered in the flesh has ceased from sin, that he no longer should live the rest of his time in the flesh for the lusts of men, but for the will of God. For we have spent enough of our past lifetime in doing the will of the Gentiles—when we walked in licentiousness, lusts, drunkenness, revelries, drinking parties, and abominable idolatries" (1 Peter 4:1-3).
"Though He [Jesus] was a Son, yet [even] He learned obedience by the things which He suffered. And having been perfected, He became the author of eternal salvation to all who obey Him" (Hebrews 5:8-9).
"...looking unto Jesus, the author and finisher of our faith, who for the joy that was set before Him endured the cross, despising the shame, and has sat down at the right hand of the throne of God. Consider Him who endured such hostility from sinners against Himself, lest you become weary and discouraged in your souls.
"You have not yet resisted to bloodshed, striving against sin. And you have forgotten the exhortation which speaks to you as to sons:
"'My son, do not despise the chastening of the Lord, nor be discouraged when you are rebuked by Him; for whom the Lord loves He chastens, and scourges every son whom He receives.'
"If you endure chastening, God deals with you as with sons; for what son is there whom a father does not chasten? But if you are without chastening, of which all have become partakers, then you are illegitimate and not sons. Furthermore, we have had human fathers who corrected us, and we paid them respect. Shall we not much more readily be in subjection to the Father of spirits and live? For they indeed for a few days chastened us as seemed best to them, but He for our profit, that we may be partakers of His holiness. Now no chastening seems to be joyful for the present, but grievous; nevertheless, afterward it yields the peaceable fruit of righteousness to those who have been trained by it" (Hebrews 12:2-11).
"And we know that all things work together for good to those who love God, to those who are the called according to His purpose. For whom He foreknew, He also predestined to be conformed to the image of His Son, that He might be the firstborn among many brethren" (Romans 8:28-29).
Fruitfulness In Christ, as a Priest of the Most High God
"Therefore, in all things He had to be made like His brethren, that He might be a merciful and faithful High Priest in things pertaining to God, to make propitiation for the sins of the people. For in that He Himself has suffered, being tempted, He is able to aid those who are tempted" (Hebrews 2:17-18).
"And the Lord said, 'Simon, Simon! Indeed, Satan has asked for you, that he may sift you as wheat. But I have prayed for you, that your faith should not fail; and when you have returned to Me, strengthen your brethren'" (Luke 22:31-32).
"Now may the God of peace who brought up our Lord Jesus from the dead, that great Shepherd of the sheep, through the blood of the everlasting covenant, make you complete in every good work to do His will, working in you what is well pleasing in His sight, through Jesus Christ, to whom be glory forever and ever. Amen" (Hebrews 13:20-21).
"For by one offering He has perfected forever those who are being sanctified [made useful]" (Hebrews 10:14).
"And Jesus said to them, 'What do you want Me to do for you?' They said to Him, 'Grant us that we may sit, one on Your right hand and the other on Your left, in Your glory.' But Jesus said to them, 'You do not know what you ask. Are you able to drink the cup that I drink, and be baptized with the baptism that I am baptized with?' They said to Him, 'We are able.' So Jesus said to them, 'You will indeed drink the cup that I drink, and with the baptism I am baptized with you will be baptized'"(Mark 10:36-39).
"Now My soul is troubled, and what shall I say? 'Father, save Me from this hour'? But for this purpose I came to this hour. Father, glorify Your name.' Then a voice came from heaven, saying, 'I have both glorified it and will glorify it again.' Therefore the people who stood by and heard it said that it had thundered..." (John 12:27-29).
True Worship and Fellowship With HIM
"Blessed be the God and Father of our Lord Jesus Christ, who according to His abundant mercy has begotten us again to a living hope through the resurrection of Jesus Christ from the dead, to an inheritance incorruptible and undefiled and that does not fade away, reserved in heaven for you, who are kept by the power of God through faith for salvation ready to be revealed in the last time. In this you greatly rejoice, though now for a little while, if need be, you have been grieved by various trials, that the genuineness of your faith, being much more precious than gold that perishes, though it is tested by fire, may be found to praise, honor, and glory at the revelation of Jesus Christ, whom having not seen you love. Though now you do not see Him, yet believing, you rejoice with joy inexpressible and full of glory" (1 Peter 1:3-8).
"My brethren, count it all joy when you fall into various trials, knowing that the testing of your faith produces patience. But let patience have its perfect work, that you may be perfect and complete, lacking nothing" (James 1:2-4).
"But you are those who have continued with Me in My trials. And I bestow upon you a kingdom, just as My Father bestowed one upon Me, that you may eat and drink at My table in My kingdom, and sit on thrones judging the twelve tribes of Israel" (Luke 22:28-30).
"Therefore, having been justified by faith, we have peace with God through our Lord Jesus Christ, through whom also we have access by faith into this grace in which we stand, and rejoice in hope of the glory of God. And not only that, but we also glory in tribulations, knowing that tribulation produces perseverance; and perseverance, character; and character, hope. Now hope does not disappoint, because the love of God has been poured out in our hearts by the Holy Spirit who was given to us" (Romans 5:1-5).
"We must through many tribulations enter the kingdom of God" (Acts 14:22).
"Most assuredly, I say to you, unless a grain of wheat falls into the ground and dies, it remains alone; but if it dies, it produces much grain. He who loves his life will lose it, and he who hates his life in this world will keep it for eternal life. If anyone serves Me, let him follow Me; and where I am, there My servant will be also. If anyone serves Me, him MY FATHER will honor.
"Now My soul is troubled, and what shall I say? 'Father, save Me from this hour'? But for this purpose I came to this hour. Father, glorify Your name!' Then a voice came from heaven, saying, 'I have both glorified it and will glorify it again'" (John 12:24-28).
Can you hear the song of the blacksmith over the raging fire's roar, and the clang of the hammer on the anvil of your faith? There are no accidents in God's sight. You can be sure that the God who knows every sparrow and lily has not overlooked your condition. He loves you. He cares. That's just our God! Still, we must come to know that He is after something much bigger than just supplying us with perpetual comfort. The trials, the failures, and the heartaches are not random. They're not accidental. He's after our character, not just our rendition of "success for Jesus." In our personal lives, as well as the church, He does NOT see success the way that we do. As Oswald Chambers has said, "How successful was Jesus? All of His labors, all that cost Him His very life, could fit in a rowboat when he left." Everything is not always as it appears. Do you know that? Will you remember that truth as you face personal trials and failures and loneliness—and NOT grab the "Hagar" of men's vices or religious gimmicks to try to fill the void?
As you, in the church world, face the call of the "Great Commission"—the failures, by any honest, Biblical measurement, of the programs and gimmicks and man-made structures and things to "attend" of the past, and the thousands of other needs that are so prevalent—would you PLEASE not resort to turning to Egypt and Babylon—or Hollywood, Madison Avenue, Wall Street, or the Silicon Valley—for your answers? Hagar can only have ONE kind of baby: ISHMAEL. For those who are WILLING to be "naked" and vulnerable before their God, without answers and "how to's" (even those really "good" answers from the Tree of Knowledge), the Father has some awesome Plans. Can we return to the Way of vulnerability and simplicity, the way of the Garden, and the Way of Jesus of Nazareth? A Place where we don't have to prove anything or be anybody. We don't have to have all the answers. All we have is God. Minute-by-minute friendship with Him in the cool of the Garden, with the quiet whisper of His reassuring Voice as our direction for our today. Throw the "Day Timers" and appointment books in the commode; "Take no thought for the morrow;" "Do not say, 'We will do this or that.'" Return to the Garden-of-Eden joy of being "naked" and very dependent and vulnerable—"naked and UNASHAMED." Barrenness is nothing to be frightened of. Not with Father counting the very hairs on our heads. Turn to GOD, not synthetic expedients and props. Hagar is NOT the answer, as "logical" as it may seem to mate with a "good idea" to accomplish the task, or a vice to dull the pain. For those who "love the Lord and are called according to His Purposes," for those who will trust in HIM with all their hearts whatever the "results," there is something very special going on (in ever-increasing measure!) as we approach the end of the age.
For it is written: "Rejoice, O barren, you who do not bear! Break forth and shout, you who are not in labor! For the desolate has many more children than she who has a husband" (Galatians 4:27).