A Slave's Song :)
4/3/2013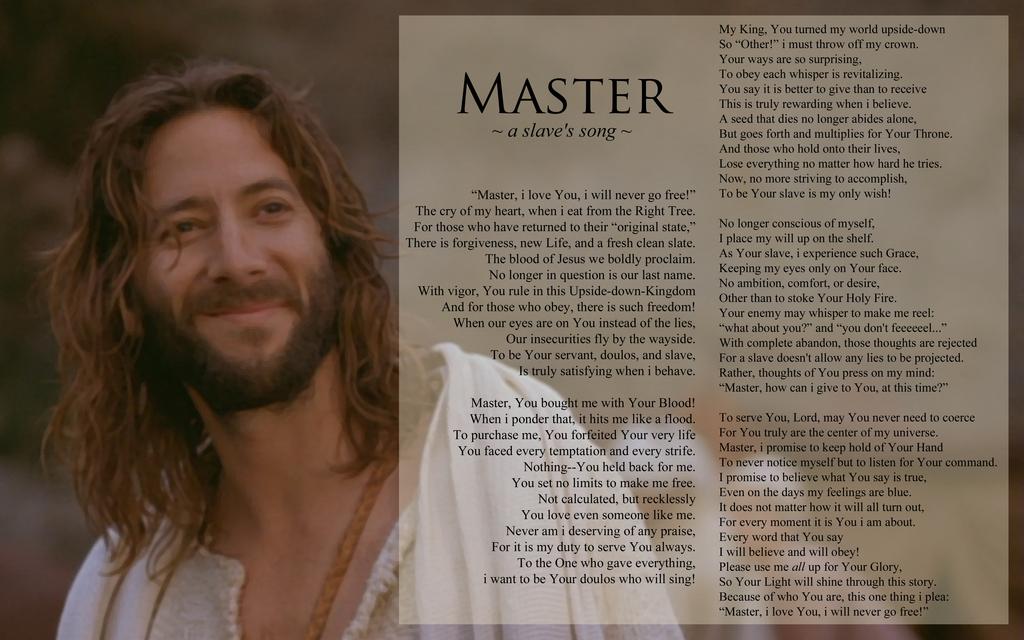 "Master, i love You, i will never go free!"
The cry of my heart, when i eat from the Right Tree.
For those who have returned to "their original state,"
There is forgiveness, new life, and a fresh clean slate.
The blood of Jesus we boldly proclaim.
No longer in question is our last name.
With vigor, You rule in this Upsidedown-Kingdom
For those who obey, there is such freedom!
When our eyes are on You instead of the lies,
Our insecurities fly by the wayside.
To be Your servant, doulos, and slave,
Is truly satisfying when i behave.
Master, You bought me with Your Blood!
When i ponder that, it hits me like a flood.
To purchase me, You forfeited Your very Life
You faced every temptation and every strife.
Nothing -- You held back for me
You set no limits to make me free.
Not calculated, but recklessly
You love even someone like me.
Never am i deserving of any praise,
For it is my duty to serve You always.
To the One who gave everything
i want to be Your doulos who will sing!
My King, You turned my world upside down
So "Other!" i must throw off my crown.
Your ways are so surprising,
To obey each whisper is revitalizing.
You say it is better to give than to receive
This is truly rewarding when I believe.
A seed that dies no longer abides alone,
But goes forth and multiplies for Your Throne.
And those who hold onto their lives,
Lose everything no matter how hard he tries.
Now no more striving to accomplish,
To be Your slave, is my only wish!
No longer conscious of my self,
I place my will up on the shelf.
As Your slave, i experience such Grace,
Keeping my eyes only on Your Face.
No ambition, comfort, or desire,
Other than to stoke Your Holy Fire.
Your enemy may whisper to make me reel:
"what about you?" and "you don't feeeeeel..."
With complete abandon, those thoughts are rejected
For a slave doesn't allow any lies to be projected.
Rather, thoughts of You press on my mind:
"Master, how can i give to You at this time?"
To serve You, Lord, may You never need to coerce
For You truly are the center of my universe.
Master, i promise to keep hold of Your Hand
To never notice myself but to listen for Your command.
I promise to believe what You say is true,
Even on the days my feelings are blue.
It does not matter how it all will turn out,
For every moment it is You i am about.
Every word that You say
I will believe and will obey!
Please use me all up for Your Glory,
That Your Light would shine through this story.
Because of who You are, this one thing i plea:
"Master, i love You, i will never go free!"